February 25, 2018
As you will realize, we've been away for two-and-a-half months and I haven't posted a journal update.  I guess getting stuck in paradise will do that to a person!
Spanish Wells is a special place.  I haven't been anywhere else in the world where people regularly stop their vehicles – golf carts, cars, or trucks, to ask strangers if they need a ride.  And this isn't a rare occurrence, and it happens whether you're just strolling, or carrying groceries or toting a rolling piece of luggage.
The 2,000 folks who live here refer to this place as "the Rock" because essentially it is rock island.  Of course like anywhere, some folks have businesses – the grocer, auto repair, electrical supply, hardware and the like, but many sell real estate and computer parts out of the same office, housewives have bakeries inside their homes, or small part time "snack shops" or ice cream parlors.  Many have small boats and service the tourist industry taking them fishing shuttling folks back and forth to see and swim with the pigs!  There's one school – K – 12!
Eleuthera was founded by British sympathizers during the revolutionary war who were living on what was to become America.  They settled here and many families never left.  The main island of Eleuthera actually supports some fairly sustainable agriculture.  There are Pinders, Alburys, and Underwoods and others.  Everyone is a second cousin to someone else.  No one locks their doors and they leave their keys in their cars.   These people are detached but yet are only a two hour ferry ride from Nassau and an hour flight away to the US.  There are no doctors or dentists on the Rock.  I'm told that a doctor and dentist visits once a week. There is no crime, and I have only seen two policemen (I assume there may be a couple more?)
I have heard stories of tourists dropping their wallets filled with cash and after returning months or even a year later they run into the last person they saw and that person tells the tourist that he has the wallet and returns it with all the money in it.  The saying here is that if someone runs into trouble here the community will circle the wagons, have a cook out and raise whatever money is needed to help the family in distress.  However, if that trouble is 'self inflicted' then they're on their own, which apparently doesn't happen too often.
For years, everything here revolved around lobster fishing until some years ago the price dropped from $15/pound to $6/pound which forced 2/3 of the fleet to close.  Since then the community has been promoting themselves as a tourist destination and have made some nice progress.  These hardy folks have been here for 300 years and I dare say they are survivors and among the nicest folks you'll ever meet.  We will definitely return.
– – – – – – – – – – – – – – – – – – – – – – – – – – – – – – – – – –
We left Jupiter, FL December 14, 2017 and have spent a wonderful 10 weeks in the Northern and Central Bahamas.  We will head home on Tuesday, February 27th leaving Spanish Wells, Bahamas (that's in Eleuthera) at 0700 and make a 30 hour non-stop ocean voyage to Palm Beach (actually Lake Worth Inlet) arriving on Wednesday around 1 p.m.  We rented a slip at Soverel Marina in Palm Beach Gardens, FL for a year.  Meryl will move into Becca's house to be Ethan's nanny for 6 – 7 months and we are always around the kids for High Holidays (September/October) and Thanksgiving so it makes sense just to stay put for a while.  Plus, I have a seriously long list of maintenance and upgrade projects I plan to deal with while Meryl is caring for Ethan.  Of course I will visit on weekends and every other I will take Meryl back to the boat so she has some time away from the kids.
Let's take you back to the start of this second Adventure out into the Bahamas.
December 14, 2017
We had decided to buddy boat with our good friends Matt and Dana Pitchon aboard Corsair, their 50' sailboat.  We met outside Lake Worth Inlet around 1500 having left our marina around 1230 while the Pitchon's left Ft. Pierce around 0700.  We decided to head directly for Great Harbour Cay in the Berry Islands which required our second overnight passage for a total of 22 hours covering 138 nm! (See the circle at the upper left (Palm Beach) and the next circle southeast of Palm Beach – Great Harbour Cay)
We spent 4 wonderful days on Great Harbour with Matt and Dana anchored up outside the harbor.  Dana is the ultimate hostess.  We ate most of our meals together while there.  She cooked, we cooked and we ate out a few times.  We got our fill of Bahamian lobster and other delicious foodstuffs.  One interesting note is that during this period there was no moon visible at night and the only description I can provide for how dark it was is ink dark or pitch black.  The only thing we could see was our anchor light about 1/4 mile away.  It was a little eerie but great fun heading back to Kokomo aboard our tender – Bluewater Baby.
I also got to go diving with Matt who has been doing so for decades.  He is not only an experienced and certified diver but a great lobster fisherman and I wanted to see how to do it.  Meanwhile I had never worn the wet suit or weight belt that I had purchased several months ago so this was an interesting first experience.
We headed in our tender to a rocky point very close to Kokomo.  We anchored there and went overboard.  By the way, this diving is skin diving with snorkel gear, not scuba.
Matt swam under the water much deeper and faster than me so I just truly enjoyed the spectacle of what I would describe as swimming inside of a salt water tropical fish tank.  It was beautiful and very peaceful.  The fish were gorgeous.  Matt came back to say that we should move the boat to a new spot, which we did.  We went overboard again and this time I got to watch Matt shoot a lobster with his sling.  This is not easy and it will take me lots of practice to get it right if I even decide to pursue it.  I have no problem with buying my lobster!  I also need much more practice with the gear; I had one scary moment where upon coming up I couldn't stay on the surface and breathe so I swallowed a lot of water.  Fortunately I remembered to roll over on my back and float while I regained my composure.  Afterwards, Matt suggested that I remove two of the 8 pounds of weight I had in my weight belt, which proved to be the right amount the next time we dove.
A few days later we rented a golf cart and the four of us drove over to the beach side to a cove Meryl and I found on our last trip there in the spring.  Matt said he thought it would be a good dive spot so we headed over, but to do it required a long walk in the water with our gear on.
We finally got to water that was deep enough to swim in.  Again Matt was ahead of me as I was still taking my time getting used to the gear.  We finally got into deep water at a cut between some large rock formations (see pics below) and I experienced my first viewing of two 6′ reef sharks (which are not friendly types).  We saw them and froze and when the sharks continued searching for a smaller meal we slowly headed back to where we came from until Matt found another rock formation and shot another nice lobster.
Pics from the dive cove on Great Harbour Cay, Berry Islands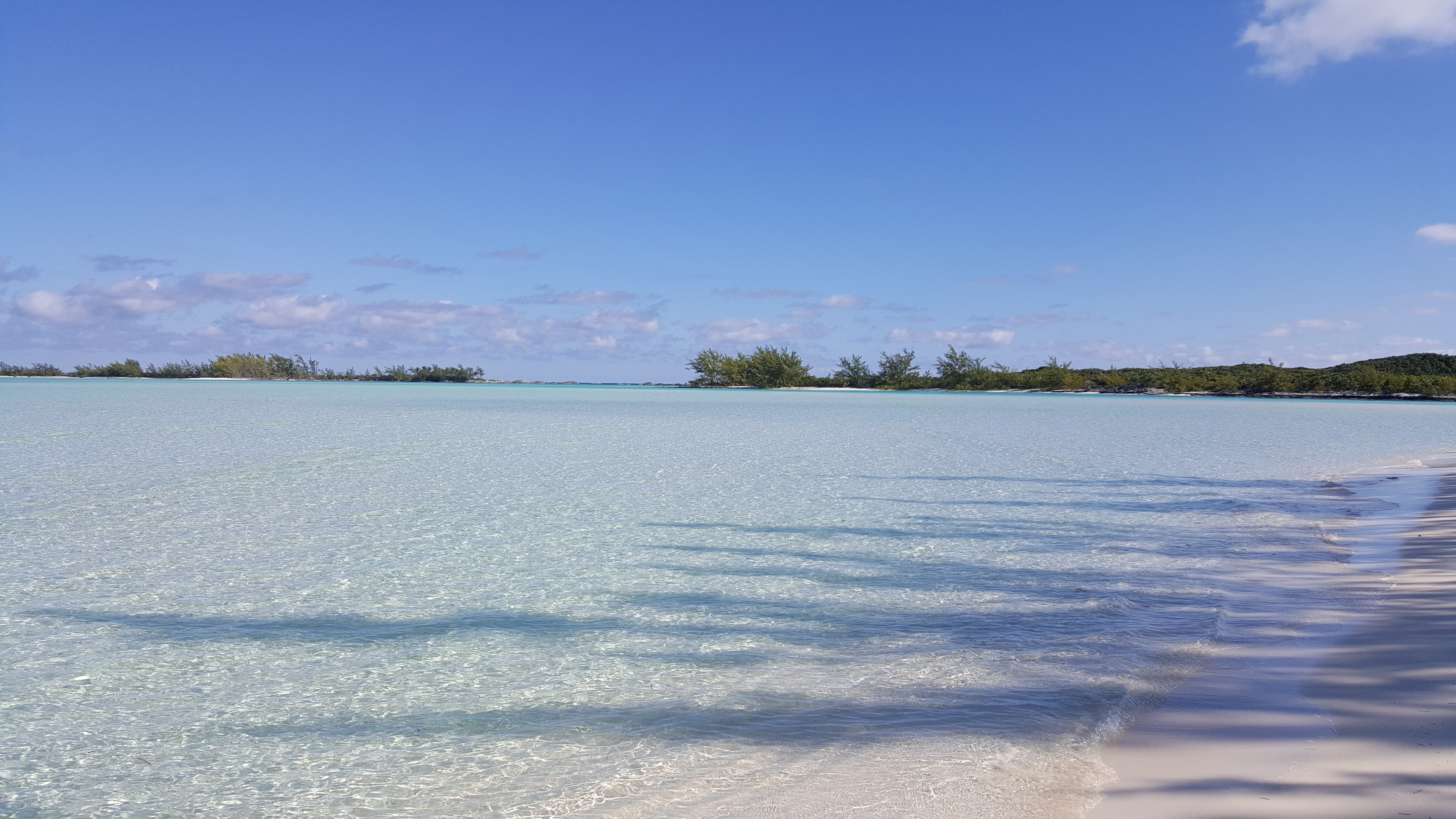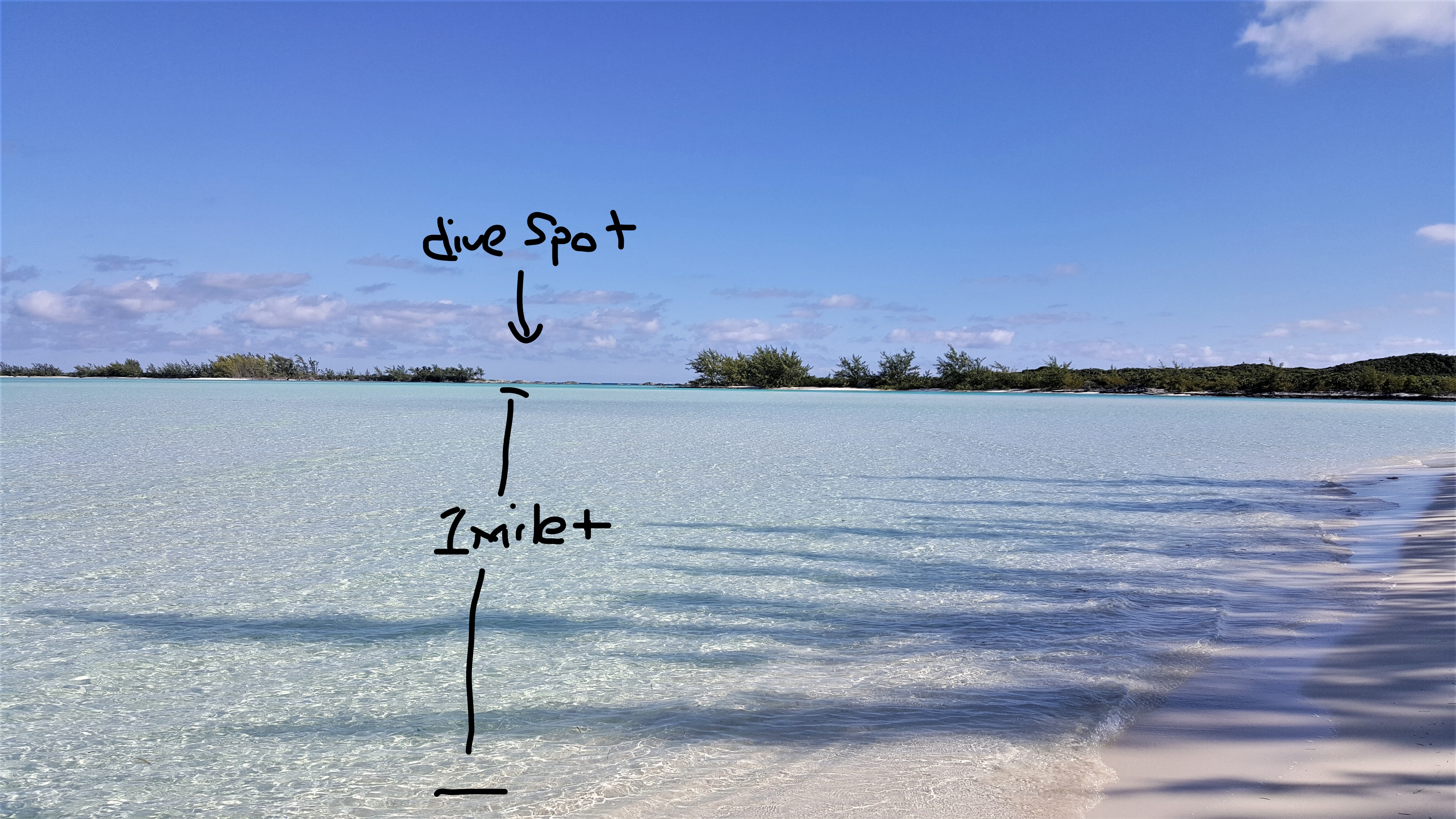 December 20, 2017
After a lovely time with the Pitchons we split up – they moved onto the Exumas and we headed for Spanish Wells.
This stretch is only 78 miles and took us 11 hours.  We made great time!  Another flat calm day on the ocean and quite beautiful with a couple of surprises along the way.
I had purchased some new heavy duty fishing gear while in Jupiter and we put it to the test.  I deployed our Penn 50 Wide with 50# mono on a 6 ft 50#-80# rod with a Wahoo bomb, a Penn 30 Wide with 30# mono on a 7′ rod rated at 30# with a blue and white bird rig and an Okuma 80 on an Ugly Stik with 50# braid and 5′ of fluorocarbon leader and deployed a red and white cedar plug.  I knew we would go over the same spot as we did last spring when I hooked up with the Marlin that spooled me so I knew this area was very fishy.  As we hit 7,000 feet depth and after agreeing with a tanker captain that he would turn to port across my bow so that we would pass each other port side to port side about 2 miles from one another, I went back to the cockpit to check the lines and the Penn 30 and Okuma 80 were singing and line was peeling off of both.  A double header!!!
I ran to the pilot house and radioed Meryl on the bridge to slow down to idle speed and to come down to help me.  I tightened down the drags to strike and regained some line on both rods.  I knew it wasn't a Wahoo or if it was it was small.  I then reeled in the 50W to get it out of the way because we have a small cockpit, with lots of other stuff we use – this is not primarily a fishing boat after all.   I then had Meryl reel in one and I reeled in the other and soon enough two Mahi started jumping out of the water.  It was so exciting for Meryl to actually experience this.  Anyway we got them both close to the boat and I had Meryl stop reeling.  I reeled mine in real close and kept the rod in the rod holder and used a 10′ gaff hook in my right hand and leadered the fish with my left hand and got him just behind the head.  I had Meryl open the cooler and in one motion got the fish to the cooler and had Meryl immediately close the lid and sit on it, which she thought was hilarious.   Mahi are known to cause a lot of damage and physical pain if they get out of a cooler.  I then repeated the same action with Meryl's rod and two nice  fish were deposited into our 36″ interior cooler!!
December 21, 2017
We arrived at Royal Harbour and anchored up just for the night so we could arrive the next day just a few miles farther at Meeks Patch, which is an anchorage we enjoy very much.  We also spent several days there last Spring.
We spent a glorious 10 days on the hook at Meeks Patch.  I got to swim right off the boat – one of my favorite things to do  – as the water temp was around 76 and the air 80, so it was terrific.  We also took dinghy rides around the islands where we were anchored and made several trips to Spanish Wells for fresh produce and a meal here and there.  It was very laid back and relaxing right up until winter decided to pay us a visit.
During one of our excursions to town, we walked the north beach.  See pics below of the North Beach at Spanish Wells, Eleuthera 12/31/17.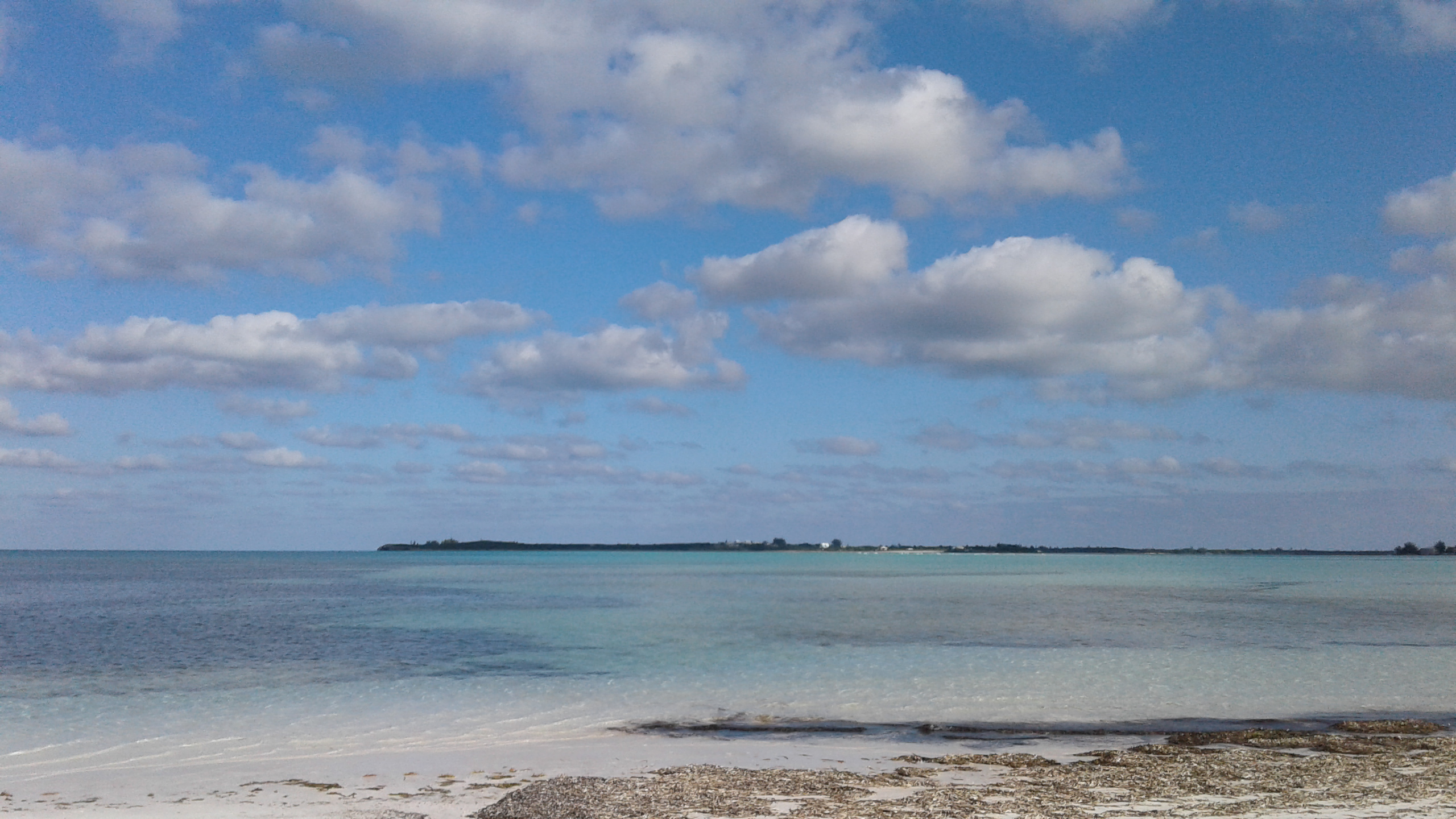 Sunset over Meeks Patch – 12/31/17
Moon rising over Meeks Patch – Happy New Year!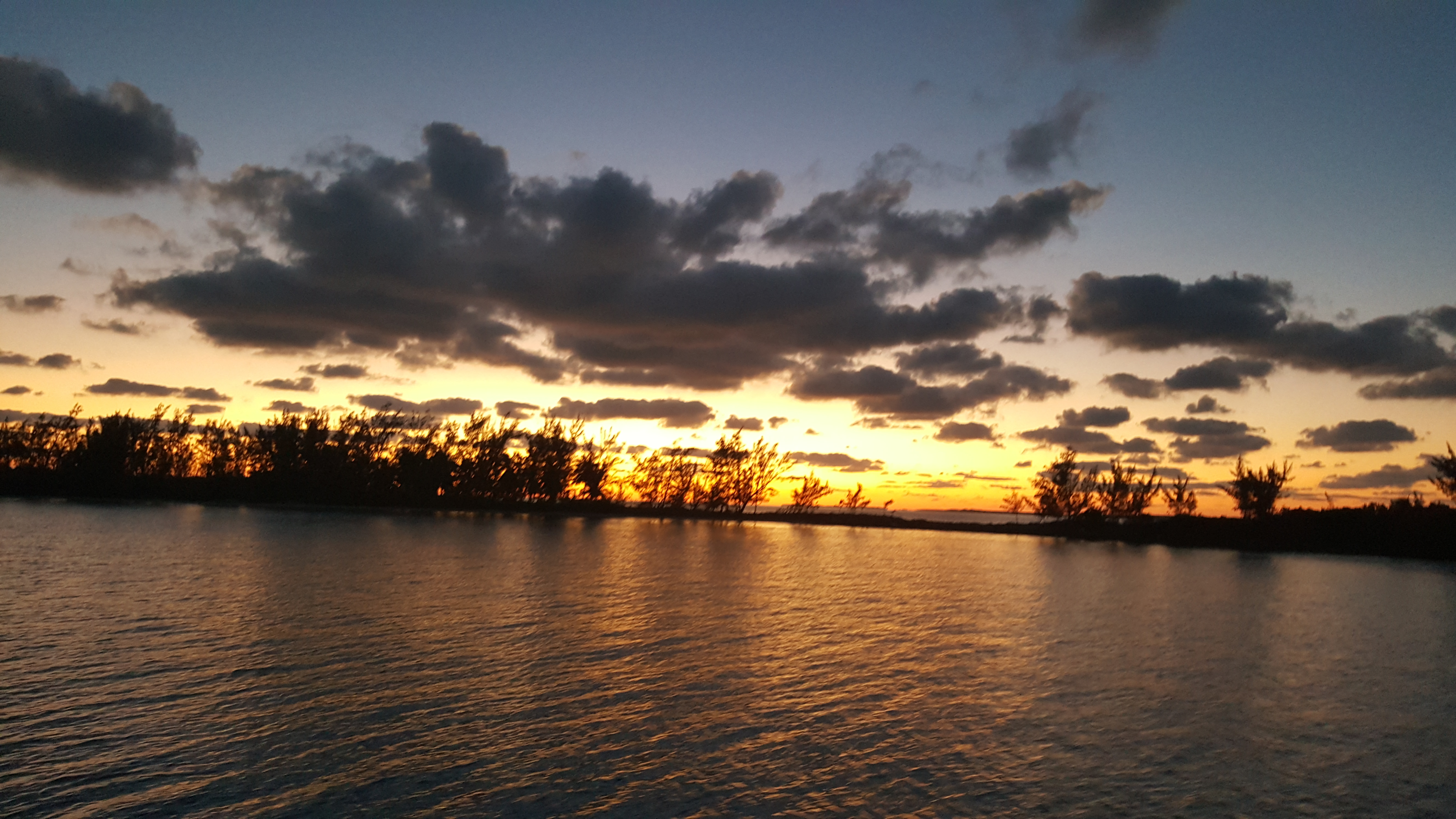 January 1, 2018
Time to leave Meeks as a serious cold front was approaching with winds forecast at 35 knots out of the Northeast which would have left us terribly exposed with rocks and beach behind us – not a good idea.  So we headed back to Royal Harbor where there is much better protection, essentially a wall of trees about 50 feet high to the north and west and the storm was forecast to clock around from that direction.
Anchorage in Royal Harbour, Bahamas
We spent time here last spring so we know it well.  This time however we went much further into the southwest corner of the cove to seek protection from the winds which are forecast to gust as high as 40 mph over the next few days.  In doing so, we ended up fouling our anchor – the swivel got torqued 90 degrees to the shank of the anchor and the chain wrapped around the swivel so that we had a ball of chain and swivel wrapped around the anchor and couldn't properly deploy it to set, nor could we retrieve it all the way back onto the bow pulpit for storage underway.  I spent about 90 minutes fighting it on my belly with hand tools , reaching over the bow pulpit, having first tied a line to the anchor's shank and letting out slack on the chain to take off some of the tension.  In the end, I got the chain unraveled but couldn't get the swivel released back into its normal vertical position.
There was no choice but to deploy the tender and fix the swivel from the water side by laying the anchor onto the tender's deck to take the strain off of it.  The issue with doing this is that when not anchored you have to deploy the tender and keep the mother ship situated so that it is safe and in deep enough water – while it takes both of us to deploy the tender!  The other issue was that our davit which is used to lower and raise the tender is having major issues and we didn't want to use it until it is looked at some time the end of this week for repair or replacement.  Nevertheless we lowered the tender and once on board with the tension released the swivel came back to its normal position on the anchor.  As soon as we leave here, I'm disconnecting the swivel and chucking it.
We stayed in Royal Harbor for 4 nights waiting for the weather especially because we had decided to tow the dinghy instead of risking the davit again.  We also knew that Jared Albury, the owner of On-Site Marine was due back from vacation (from Ft. Lauderdale) on or about the 4th of January and I wanted to meet him as soon as possible to discuss fixing or replacing Kokomo's davit.
I made a bridal system using spare snubber gear and attached both snubbers from stdb and port cleats to a tow line which I connected with a bowline knot to the tow ring on the dinghy.  I also tied a anchor float to the joint of the snubber gear and tow line so that when we stop the heavy snubber gear doesn't sink and foul the props or rudder.  This system worked very well and I will use it again when needed.
January 5, 2018
We put into Yacht Haven Marina in Spanish Wells on the 5th of January and as soon as I got Meryl off to the airport via water taxi and land taxi so that she could be with Becca, as she was now expecting an early delivery, I took a walk over to meet Jared at On-Site.  Jared said he needed to come to the boat and take a look at the davit which he did a couple hours later.  He discovered that he couldn't lift it off without a fork lift and said he would make arrangements for the following week.  He then referred me to a friend of his who manages some docks and I was able to move Kokomo to her new, much less expensive temporary home, the following day.  It was the first time I ran the boat single-handedly.  I'm definitely going to install a back up camera on Kokomo because without it I'm totally blind, which in many cases is ok but when you really need to know what's behind you it becomes a need not a want.
During the next two weeks I made three trips to the public wharf where the tankers, cargo vessels and ferry boats dock to load and offload.  During the first trip we successfully removed the davit.  Then Jared came to my dock with a portable welding machine and welded two handles onto the bottom of the bent shaft.  I then made the second trip to the wharf where we discovered that the shaft wouldn't come out of the boat even under the pressure of the fork lift.  Jared came back to the slip and disconnected the standpipe from the sun deck and from the salon.  However, in order to do so, we had to cut a hatchway through the teak to get to the base of the standpipe.
January 22, 2018
Meryl arrived back in Spanish Wells this day.  A couple of days later we took Kokomo back to the wharf to remove the shaft and standpipe.  Once this was accomplished during the third trip, the shaft and standpipe came out easily as one unit.
Jared Albury
What we then discovered once the assembly was safely transported back to On-Site's shop was that the bent shaft was encased, under pressure, in a neoprene or nylon pipe and that the shaft didn't go to the bottom of the pipe but rather it was fixed in place inside the standpipe by the pressure from the nylon/neoprene casing which wedged the shaft into the standpipe.  We also discovered that inside the davit there is a receiver cup that the shaft is supposed to fit inside for support but that it had come loose from the cup (due to it having bent).  There are many theories about how this solid stainless steel 2″ diameter shaft bent and my take is that over time, the shaft had slipped a couple of inches down inside the receiving cup – in other words somehow the pressure was relieved and the pipe slipped from inside the receiver which caused it to bend.
Now that the entire assembly was removed from Kokomo and we were able to see what we had, we could then first begin to engineer a repair.  As it turned out, Jared designed a new solution.  The new shaft would be installed inside the new standpipe of the same diameters as the originals.  However, the new shaft was specified to be the full length of the standpipe.  Further, it would fit inside a base receiver cup which was welded into the new shaft's base.  In addition, Jared designed two new bushings out of starboard to replace the neoprene/nylon bushings of the original.  I researched and ordered a shaft from Fort Lauderdale from the heaviest duty stainless steel material available.  Jared ordered the aluminum parts from his normal supplier in Fort Lauderdale and fashioned all of his parts by hand.  There are no fancy machine shops in Spanish Wells.  Everything is done here old school – by hand!
Meryl and I stayed in our slip for about a week and finally realized that we would experience further delays in receiving and fabricating parts, upon which we decided to leave the slip and head back out to Meeks Patch where we anchored up for two weeks.  During these two weeks we met Tom and Charlotte – Tom was a Hornet driver – one of those guys you see landing jet planes on aircraft carriers; and Charlotte is a licensed 100 ton captain from Alaska.  They are "thirty-somethings."  This was their maiden voyage to the Bahamas and we had them over for a Sun-downer's evening.  We also met another sail boat crew – Eric, Laura and Danny all from New England.  They were in a thirty-four foot sail boat that Eric had sailed solo from Newport, RI to Fort Lauderdale.  Laura and Danny were together both having graduated college and both going to law school having been accepted at great schools but waiting for acceptance to Georgetown and Harvard respectively.  They were definitely twenty-somethings!  They brought us a couple of lion fish and a yellow tail snapper which Eric had speared.  I served fish dip from a king mackerel I had caught and had in the deep freeze and I cooked the lion fish on the grill and fried up the yellow tail the following night for our dinner.
February 19, 2018
When I checked my email I found a message from Steve "Mitch" Mitchell from the SV Take Me There (I immediately remembered who he was) who asked me if our Kokomo was the one he had met during our overnight cruise in the ocean from Charleston, SC to St. Augustine, FL.  He was anchored up directly behind us!!  Talk about a small world.
I hailed him on the VHF and told him our saga and that we were headed to town to have our repairs completed.  He informed me that he was taking his 53′ sail boat into the marina for a few days and we agreed to get together for dinner for our first meeting.  We ended up meeting a couple days later at Wrecker's Restaurant at the Yacht Haven Marina where he was staying.  We had a great evening and planned on getting together again back out at Meeks.  On board with him was his lovely wife Kimberly, her son David, and a crew member Brandon who is a psychologist on research sabbatical for a couple of months.  Mitch is a retired US Army Colonel who has pretty much rebuilt his 1975 Gulfstar motor sailor single handed, and Kimberly is a PhD and consults Corporate Executive Behavior (hope I got that field correctly!).
February 21, 2018
The On-Site team brought the shaft to the boat along with the receiver cup.  Jared mounted the receiver in the salon and four of us lifted and hoisted the 200# shaft up from the dock up approximately 8 feet and into the hole for it to slide into.  The crew went back to the shop and returned with the standpipe assembly which we were easily able to slide into the hole over the shaft.
New Shaft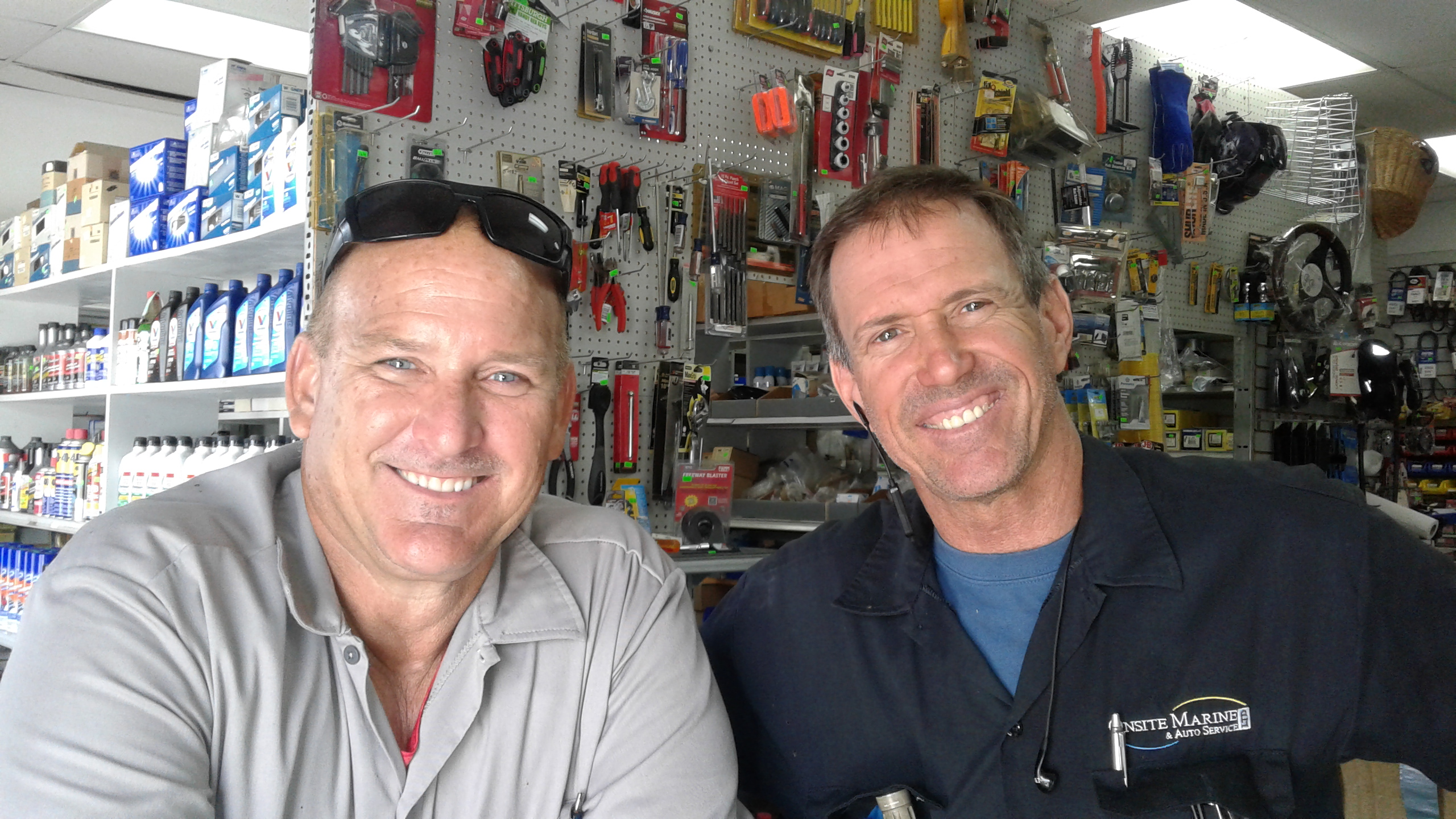 Team On-Site
Jared and his partner/brother-in-law Justin Pinder
February 22, 2018
Jared returned and fastened the pipe down and to install the davit onto the boat but we then discovered that shaft didn't fit into the receiver cup in the davit.  The problem was that we were trying to fit a 2″ shaft into a cup we couldn't see which was located four feet up inside the davit.  So Jared proceeded to cut a 10″x 12″ rectangle out of the davit so had visibility.  The shaft fit cleanly into the receiver and we all breathed a sigh of relieve.  Jared then fashioned an aluminum hatch cover for the davit and one for salon and came back the next day and finished up the job.
February 23, 2018
Some six or seven weeks after first getting Jared to look at the job we were finished.  Kudos to Team On-Site – Jared, Justin, Midgey (Justin's sister and Jared's wife), Rick, and Mark.  All in all, I believe we ended up with a much better repair than we might have gotten in SoFL and certainly for less money – and that's if we could even find anyone to do the repair.  My opinion is that all the davit builders wouldn't have touched our old system but rather insisted that we tear it out and start from scratch for probably $15K , which is almost 3X what it cost us to fix our existing one.
While it is true that our plans had to completely change and that we weren't going to get to cruise to the southern end of Eleuthera because of this repair, we were stuck in paradise for two months.  I know, poor us!
February 24, 2018
Last evening, we had Steve, Kimberly, David, and Brandon from Take Me There over for Sun-downer's.  I made fish dip (my last piece of frozen king fish – I will have to do something about that – and Kimberly brought home made bread and spinach dip.  We had a wonderful evening up on the sundeck and showing them our boat.  They were heading out at first light on the 25th for the Exumas.  We wish them fair winds and calm seas.
February 25, 2018
Everything from the 5th of January through today  , I wrote and assembled today.  Tomorrow is our last day to hang out and get Kokomo ready for our longest ocean voyage yet.  This will be the last journal for quite a while.  I'll be refitting and performing maintenance
Our route home for February 27, 2018
Follow the green line from the lower right hand corner (circled in red) to the upper left hand corner (circled in red) – 185 miles