New Smyrna Beach, FL – July 8, 2017
So you know how I keep harping on the fact that we cruisers can make plans but not keep schedules, right?  Well here's a prime example.
We planned on stopping in New Smyrna Beach to visit with Bob Breum, a new friend we made over the internet through a Trawler Forum who has become an invaluable resource for me and Meryl in the area of navigation software and boat electronics.  In fact he is ABYC certified, which is the highest certification one can attain in the marine electronics world.
Anyway, Bob engineered (drew plans, wiring diagrams, etc.) to help me install the AIS system we purchased with Bob's help.  In fact he provided us with a bill of materials – all the parts and sub-assemblies we would need to complete the task.
The problem is that no matter who engineers these installations there are always issues because it is a boat and know one knows what will be found during the install process – after all this is a 40 year old boat, has gone through numerous modifications by several owners so the vessel's documentation is not (no one's is) accurate or non-existant and during the installation of any new system  "sh*t happens".
As it turned out, we needed more parts and accessories, some of which Bob had in his inventory, some we were able to buy locally and others we had to purchase via overnight delivery (or so we thought because as it turned out we didn't need that accessory) and so it goes.  What was planned for 3 days turned into 6 – voila – schedules just don't work.
So there we were at the Smyrna Beach Yacht Club – poor us – replete with pool, tennis courts (neither of which I got to enjoy – I don't play tennis but using the pool would have been nice) three dining areas – one 'formal' to the extent you can't wear shorts etc., complete with white table cloths and fine dining type table service overlooking the marina and river – very nice; the bar where you could wear shorts and where bar food and the complete dining room menu were offered; and the Tiki Bar which unfortunately is only open on weekends but we did get to try it the last night there.
The other four nights consisted of dining at two steak houses,  a local located on the beach road between the river and the ocean where mostly locals go, and a great little place that serves the best New England lobster roll in the South (Bob calls these "Connecticut Lobster Rolls" and I didn't get a clear definition why he thinks there is a difference between one from Maine, Massachusetts, or Connecticut but I will ask him if I think about it.  Nevertheless, they were absolutely delicious and packed with beautiful whole claws!  Bob and I had ours warm with butter and Meryl opted for cold with mayo.
Almost forgot to mention that Bob is not only a bit of a foodie but has a wine cellar in his house!  Not only did he open a great California Zin, but also a Barollo, and a 1989 Bordeaux!!!  I love Bob!!!!
Meanwhile, during this installation, I found out what it was really like to be a marine electrician.  In order to install this system I found myself crawling and bending myself into crevices on Kokomo oftentimes on my back, going head first, that I never imagined before being possible – i.e. Boat Yoga!  Some of it was actually painful but satisfying at the same time.  I learned how to "snake" wires, mount terminal blocks, etc., and generally learn how to execute a plan designed by someone else.  The pictures below tell part of the story, and wish I might, I am certainly not responsible for all of this great work.  Bob actually did most of it! (I did the grunt work).
Because we stayed so long, we needed some grocery items so we Ubered to a nearby Publix, dropped off the UPS package to be returned to the vendor who shipped us the overnight package we didn't need and left the next day for St. Augustine at 0630 heading out the Ponce Inlet into the Atlantic Ocean.
Ponce Inlet to St. Augustine – July 15, 2017
Great day on the Ocean.  We both love the open ocean.  Meryl started our cruising adventure afraid that she would hate it but now admits it's more relaxing than running the ICW which takes far more concentration and is more tiring due to the traffic, the channel markers, bridges, floating debris and low tides!  That said, some routes along the ICW are beautiful and definitely worth seeing.
We planned on dropping the anchor just off the City Docks but after deploying 25' of chain, no more would come out of the chain locker.  I immediately assessed the problem as a knot in the chain but we couldn't anchor and I was nervous about connecting to a mooring ball to try to free up the chain (not sure I've covered this before, but mooring balls are floating buoys that are already attached to anchors which you rent from the owner and are much cheaper than marinas – usually 75% cheaper) but wan't sure if I would need mechanical assistance so we opted to grab a slip at the St. Augustine City Docks.  Not cheap, but available and nice – great staff too.  Upon docking and checking in, I had Meryl deploy the anchor straight down into the water in front of the boat and behind the dock while I sat on my knees in the forward stateroom behind the chain locker and watched the chain deploy until I saw the problem.  The chain simply hadn't made a neat pile inside the locker and got tangled up.  I spread out a huge beach towel over the stateroom's beds, and pulled out 250' of 3/8" chain, foot by foot, out of the locker and piled it up in front of me, untangling it as I went.  It was a true upper body workout and created a huge nasty mess.
With almost all the chain out (we have 300') I had to slowly retrieve it as I fed it into the locker in an even circular motion to make a nice smooth pile which wasn't the case prior to this exercise.  Problem solved!
For dinner, I fired up the grill and bbq'd some chicken parts purchased at Publix in New Smyrna.  By the way, before we left Florida, I had several problems with our fancy stainless steel boat grill and after replacing several parts and still couldn't get it to work I headed to the local ACE hardware where for $200 I bought a portable Weber camping grill which I set up on an aluminum camping table I bought.  Voila  – best grill ever!
St. Augustine to Brunswick, GA – July 16, 2017
Meryl ran the inlet at 0700 without incident and we headed North.  Had another great day on the ocean until about 1400 when the skies began to darken.  All the weather information we had confirmed that as far as we could see North or South the entire coast was socked in with thunderstorms.  I use a little weather app – "Storm" that is typically very accurate for these situations and it showed that at 1600 we would find a break right as we were approaching Brunswick Inlet – good news for us.  As it turns out, Brunswick Inlet is the easiest inlet we've ever used – it's like a runway – very long and straight as the Navy uses it for submarines and other vessels.  Once we cleared the inlet we headed for the Frederica River, just behind St. Simons Island, found a nice anchorage, fired up the grill, grilled some sirloin steaks and fresh sauteed broccoli.  Meryl made us some cocktails and we spent the night.
Frederica River to Savannah – July 17, 2017
We decided not to go back out the inlet as the weather didn't look great.  We opted instead to run the ICW and made a 70 mile run up to just south of Savannah.  There are two paths to go North.  We decided on the more curvy path just to do it.  Well….once was enough…we did it a low tide (big mistake) and had to really watch the depth finder to keep from running aground.  At the end of a long and tiring day, we found a nice anchorage along the Vernon River, just south of Savannah, opened up the grill and qued a freshly purchased turkey breast from Publix in New Smyrna.  Meryl had previously cooked up some brussel sprouts so dinner was complete.
Savannah to Beaufort, SC – July 18, 2017
Next morning left again at 0630 for Beauford, SC.  We had planned to anchor up and passed the anchorage (would definitely go back there on our return) but because it was early (3pm) Meryl wanted to catch up on laundry at a marina facility – towels and other heavy cotton items we don't like to wash or dry on the boat – so we shopped around for a slip and found Ladies Island Marina which was a great find.  Not only was it 25% cheaper than the City Docks it was in a small secluded river, off the beaten path where Mary, the manager was extremely welcoming as were all the other folks we ran into there.  The docking was easy, and as Meryl and I went searching for the laundry room, I saw a woman walking towards me with a Yoga mat and asked her where she was going she pointed to a door without a sign telling me she was heading to the 4pm class (it was 3:58) but that there was a 5:30 class and walk ins are $15.  This news made my day.
Meryl was already managing laundry so I headed back to the boat to take a scheduled business call and take care of some boat things.  I went to the class at 5:30 and found that I was lucky enough to share the class with one other student and as it turned out the teacher was the owner of the studio who just so happened was covering for the regularly scheduled teacher.  Not only was she a great teacher by way of demonstrating poses and correcting body positions, she introduced us to the "yoga wall" which I had never seen which includes straps and sheepskin covered swings apparatus.  It was a great practice and I was thrilled that I found this place.  Meryl and I have plans to spend time in Beauford on the return trip probably in October.  We left Beauford at 0630 the next morning heading for an anchorage just south of Charleston, SC.
Some shots of Beauford, SC
Yoga wall with straps and sheepskin followed by a sunset over Beaufort, SC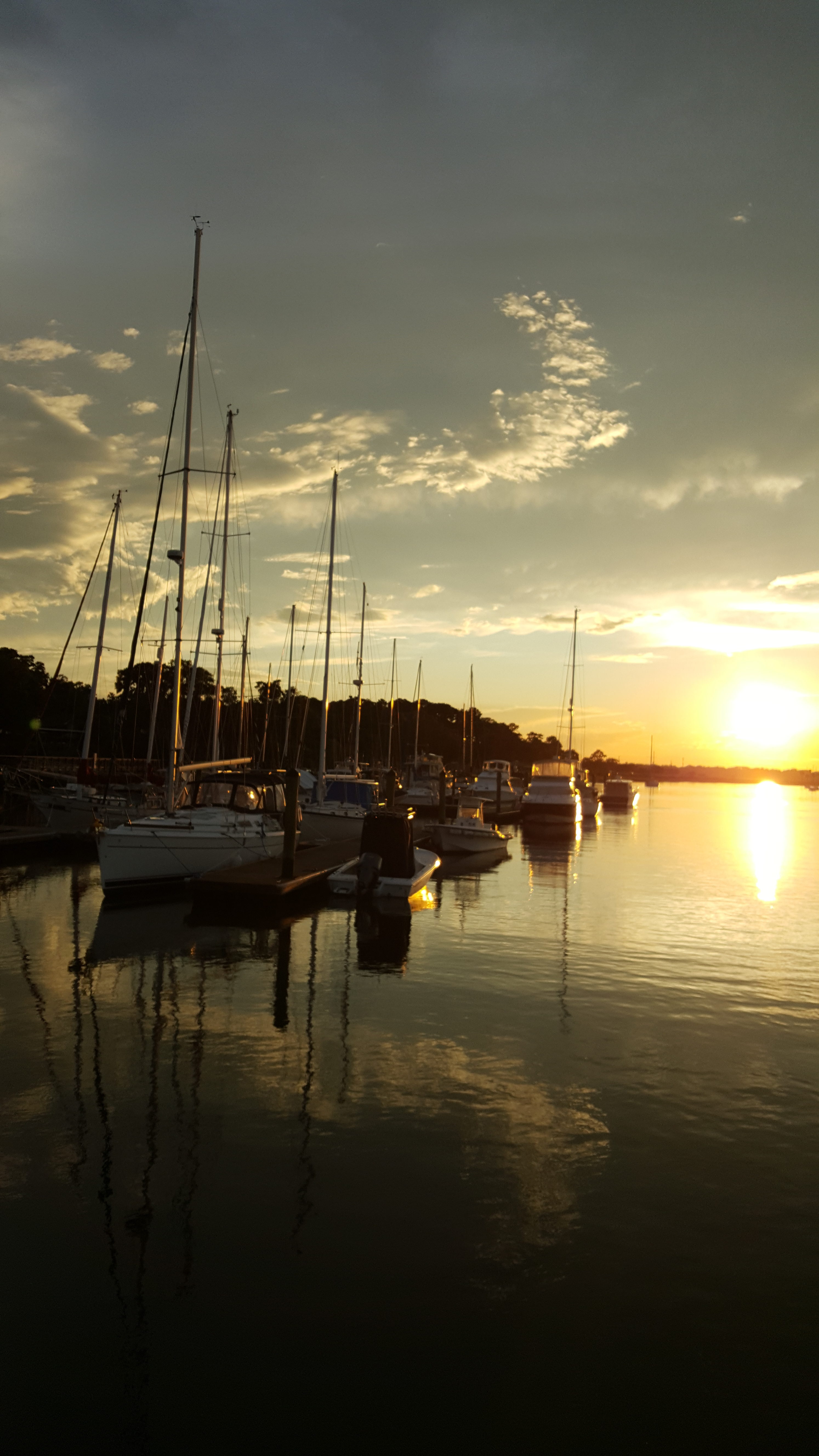 Beaufort, to Charleston (Stono River) – July 19, 2017
We had a lovely cruise up the river system and got to our anchorage early today.  After setting the hook and moving up to the sundeck for some r&r we noticed a weather front beginning to encircle us.  An hour later it was storming like crazy with wind gusts over 50 mph!  The anchor held wonderfully and all was fine.
Storm approaching over Stono River, SC
Charleston to Georgetown, SC (Butler Island) – July 20, 2017
As usual we left at 0630.  We had only a short distance to go to get into Charleston Harbor.  Meryl deftly drove the boat through the harbor following my navigation input and we went offshore around Cape Romaine and about 7 hours later entered the inlet to Georgetown, SC.  We cruised up through Winyah Bay and instead of going to Georgetown proper we made our way up to and behind Butler Island where we found one of the nicest anchorages of the trip so far.
Beautiful anchorage behind Butler Island, SC
Butler Island, SC to North Myrtle Beach, SC – July 21, 2017
The next morning we had a very short cruise up the ICW to North Myrtle Beach.  We stopped to top off our diesel fuel tanks at Osprey Marina, just an hour or so south of North Myrtle Beach where we paid $2.01/gallon.  Great price.
The next three pictures were taken on the ICW between Butler Island and North Myrtle Beach.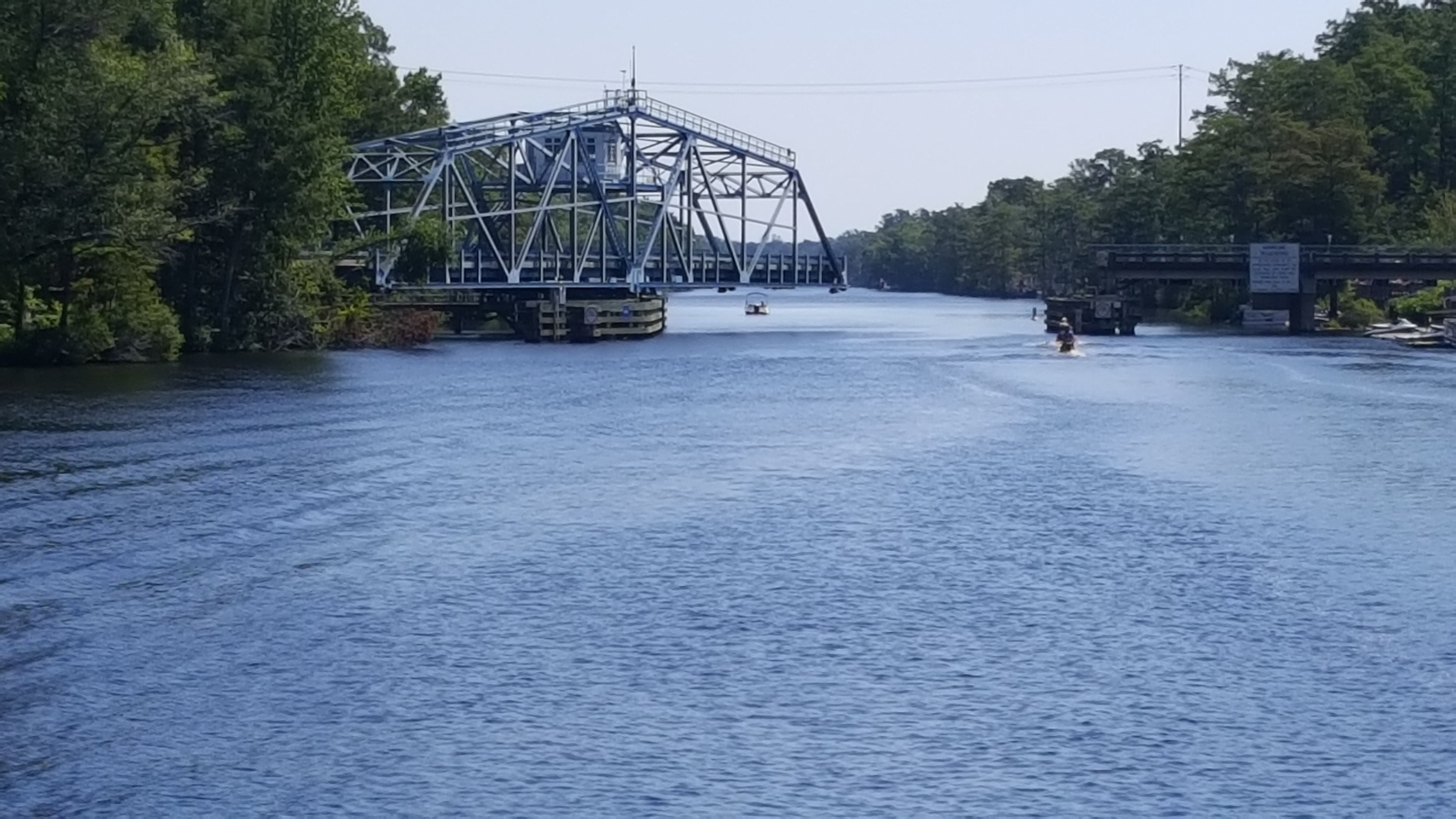 We arrived in North Myrtle Beach a little after 1300 at the Barefoot Landing Resort & Marina to spend time with Richard and Connie aboard S/V Seascape and Rod and Sue Busbee aboard the M/V Busy Bee.  We know Richard and Connie from our winter trip to the Abacos and Rod and Sue from a Great Loop conference we attended in Norfolk in March 2016.  We had a wonderful time dining at Greg Norman's across the waterway. Rod and Sue had some bright work to finish on their deck so we visited a while with Richard and Connie and called it night as we prepared for another early morning cruise to Wrightsville Beach, NC.
We are looking forward to spending more time in SC on our return trip especially in Charleston and Beaufort.
I hope everyone is enjoying their summer as much as we are.  Until next time…
Kokomo Jim